Mobile Truck LED Display wordt een belangrijk advertentiemedium voor buitenevenementen en advertentiecampagnes op basis van zijn unieke geavanceerde structuurfunctie.
Het staat bekend als op vrachtwagens gemonteerd LED-display en op de aanhanger gemonteerd LED-scherm .
De producten worden op grote schaal gebruikt voor reclame, shows, square, concert, sportevenement, festival, zakelijke bijeenkomst of liefdadigheidsevenement, Grand Theatre, groot nummer en dansfeest, modeshow.


Kenmerken
1. Met een helderheid van meer dan 6.500 nits zorgt dit mobiele scherm ervoor dat het publiek een duidelijk beeld krijgt, zelfs in direct zonlicht of op donkere plaatsen.
2. Het ontwerp van kijkhoek van 140 graden (zowel horizontaal als verticaal) is ook een lichtpuntje om het publiek van verschillende kijkafstanden te ontmoeten, wat het effect enorm vergroot.
3. Het grootste voordeel van het mobiele ledscherm is de verplaatsbare functie. En het kan op elk moment worden aangepast aan de manier waarop je speelt en aan het publiek om het beste publiciteitseffect te bereiken.
4. Gemakkelijk te verplaatsen betekent eenvoudige bediening. Onze mobiele LED-schermwagens zijn zeer snel in te stellen en zijn volledig zelfstandig, waardoor extreme flexibiliteit mogelijk is. Het LED-display met traliewerk neemt onze ultraslanke LED-schermkast in gebruik om een ​​lichtgewichtvereiste te realiseren, dus het zou eenvoudiger en veiliger zijn om het te verplaatsen.
5. Kastgrootte en materialen kunnen worden aangepast aan verschillende projecten. Onze mobiele LED-schermwagens zijn zeer snel in te stellen en zijn volledig onafhankelijk en zorgen voor extreme flexibiliteit.
Pixel Pitch

10mm

16mm

Pixel Density

10,000 px/m²

3,906px/m²

LED Type

SMD3535

SMD3535

LED Configuration

1R1G1B

1R1G1B

Module Dimension

320*320mm

256*128mm

Cabinet Dimension

1280*960mm

1280*896mm

Cabinet Resolution

128*96px

160*56px

Cabinet Weight

80kg

75kg

Cabinet Material

Steel/aluminum

Steel/aluminum

Ingress Protection
(front/rear)

IP65/IP54

IP65/IP54

Brightness

>6500nits

>6500nits

Viewing Angle(H/V)

140°/140°

140°/140°

Driving Method

1/4 Scan

1/6 Scan

Power Consumption(avg.)

360w/m²

360w/m²

Power Consumption(max.)

900w/m²

900w/m²

Frame Refresh

≥ 60Hz

≥ 60Hz

Data Refresh Rate

≥ 1500Hz

≥ 1500Hz

Gray Scale

16bit

16bit

Colours

281 trillion

281 trillion

Contrast Ratio

2000:1

2000:1

Power Supply

AC 110/220±10%
50~60Hz

AC 110/220±10%
50~60Hz

Temperature
(operating/storage)

-20~50°C / -40~60°C

-20~50°C / -40~60°C

Humidity(operating/storage)

10%~90%RH
10%~85%RH

10%~90%RH
10%~85%RH

MTBF

≥1000 Hours

≥1000 Hours

Life Span

≥100000 Hours

≥100000 Hours

Pixel Failure

<0.0003

<0.0003
Afbeeldingen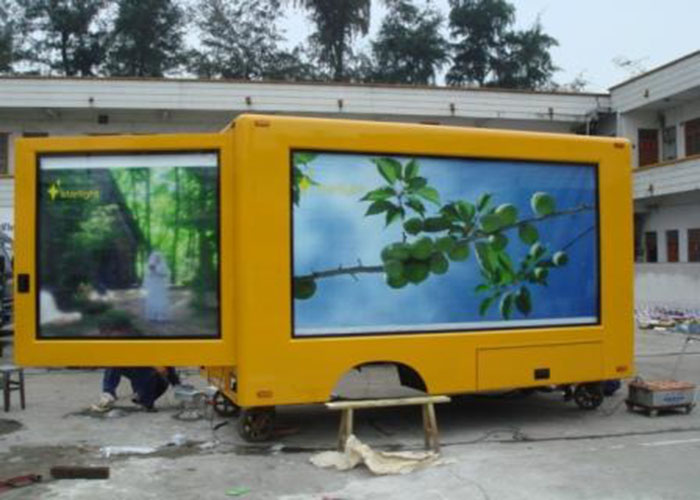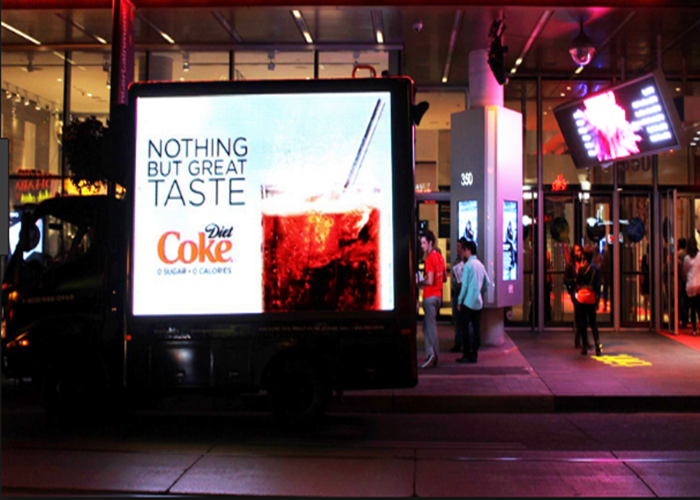 voordelen
1. Prijsvoordeel: wij hebben de uitstekende productkwaliteit, evenals de meest concurrerende prijs. Welkom om te informeren.
2. Kwaliteitsvoordeel: ongeacht grondstoffen of verwerkingsstap, het wordt strikt gecontroleerd door het systeem van de kwaliteit van het Normen.
3. Servicevoordeel: we zullen u de installatiemethode uitleggen terwijl u technische ondersteuning biedt. We bieden ook een garantie van twee jaar.

Diensten
1. We kunnen maatwerk leveren voor op maat gemaakte producten en kunnen onsite installatie- en testservice bieden.
2. Wij bieden 2 jaar garantie en gratis reparatieservice voor onze verkochte producten.
3. We bieden ook gratis training voor klanten ingenieur.

Tips
1. Betaling: Wij accepteren de L / C, T / T, Western Union.
2. Verzending: Wij verzenden binnen 30 werkdagen nadat u de bestelling hebt geplaatst, maar de specifieke levertijd wordt beïnvloed door de rederij en verzendgegevens.
3. Pakket: We verpakken het product meestal in een houten kist of flightcase.
Product Categorie : Mobiele LED-display > Truck LED-display