Kenmerken & Voordelen
1. Ze kunnen op verschillende vrachtwagens worden gemonteerd voor eenvoudige verplaatsing.
2. Een hoge grijsschaal van 16-bit verzekert de rijke kleur en verdient het probleem van het mozaïek op lovenswaardige wijze, heeft de uitstekende consistentie van licht.
3.It speelt door video, grafiek, animatie enz., Verbindt met PC-computer of netwerk, kan ook afstandsbediening met asynchroon systeem.
4.Het bevat een minimale helderheid van 5500 nits of hoger (aangepast), zorgt voor de helderheid van het beeld en draagt ​​de inhoud volledig over, zelfs in direct zonlicht.
5. Grote kijkhoek tot 140 graden bij horizontaal en 140 graden bij verticaal om te garanderen dat kijkers een duidelijk zicht onder elke hoek kunnen zien en er geen beeld-licht is.
6. Goede schokbestendigheid voor verplaatsen.
7. We accepteren maatwerk, kast en panel size kan worden aangepast volgens verschillende projecten.
Details
Pixel Pitch

8mm

10mm

The ingress protection of the front is IP65 as well as the IP54 of the rear,which meets the standard of outdoor LED Display. Waterproof and dust-proof are basic function of outdoor LED displays, the level of IP65 promise that the screen is completely anti-dust and protect water shooting from any range.





Pixel Density

15625 px/m²

10000 px/m²

LED Type

SMD3535

SMD3535

LED Configuration

1R1G1B

1R1G1B

Module Dimension

256*256mm

320*320mm

Cabinet Dimension

1280*768mm

1280*960mm

Cabinet Resolution

160*96px

128*96px

Cabinet Weight

70kg

80kg

Cabinet Material

steel/aluminum

steel/aluminum

Ingress Protection

IP65/IP54

IP65/IP54

(front/rear)

Brightness

>6500nits

>6500nits

Viewing Angle(H/V)

140°/140°

140°/140°

Driving Method

1/4 Scan

1/4 Scan

Power Consumption(avg.)

360w/m²

360w/m²

Power Consumption(max.)

900w/m²

900w/m²

Frame Refresh

≥ 60Hz

≥ 60Hz

Data Refresh Rate

≥ 1500Hz

≥ 1500Hz

Gray Scale

16bit

16bit

Colours

281 trillion

281 trillion

Contrast Ratio

2000:01:00

2000:01:00

Power Supply

AC 110/220±10%

AC 110/220±10%

50~60Hz

50~60Hz

Temperature

-20~50°C / -40~60°C

-20~50°C / -40~60°C

(operating/storage)

Humidity(operating/storage)

10%~90%RH

10%~90%RH

10%~85%RH

10%~85%RH

MTBF

≥1000 Hours

≥1000 Hours

Life Span

≥100,000 Hours

≥100,000 Hours

Pixel Failure

<0.0003

<0.0003
toepassingen
Gebruikt voor live-uitzendingen, live-vergaderingen, banketten, feesten, shows, advertenties, enz., Geef de inhoud weer die u zoekt.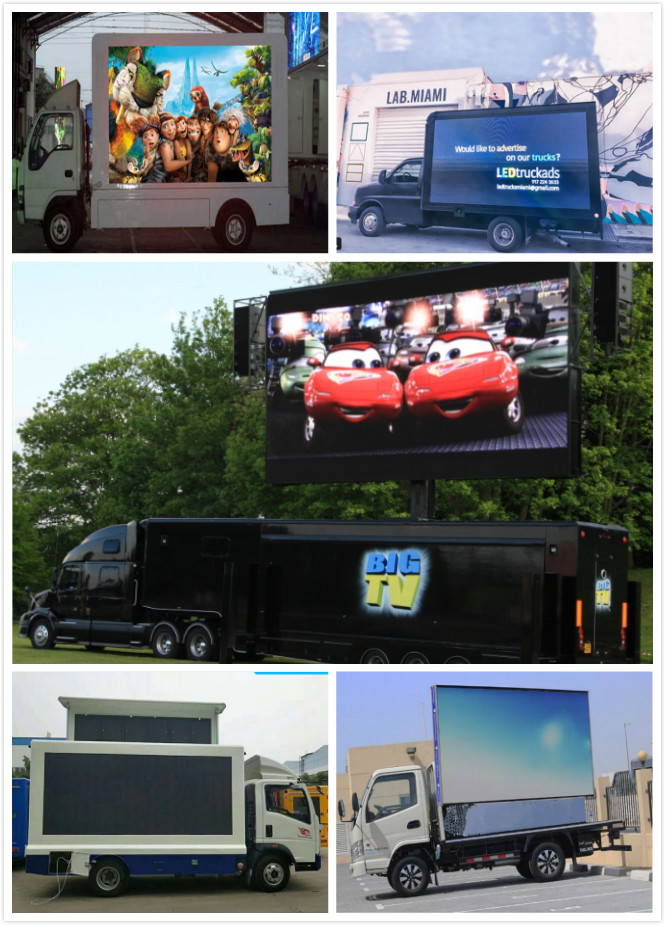 Product Categorie : Mobiele LED-display > Truck LED-display