Kenmerken
* 1 Mobile Truck LED Display wordt een belangrijk reclamemiddel voor outdoorevenementen en advertentiecampagnes op basis van zijn unieke geavanceerde structuurfunctie.

* 2 De producten worden op grote schaal gebruikt voor reclame, shows, square, concert, sportevenementen, festivals, zakelijke bijeenkomsten of liefdadigheidsevenementen, Grand Theatre, groot muziek- en dansfeest, modeshow.

* 3 uitstekende waterdichte structuur: als voor outdoor mobiele led-display, onze producten kunnen bijna volledig anti-stof en anti-water jet. Zodat de led-display vrij kan bewegen.

* 4 Hoge waarde: de helderheid van 6500 nits en de brede kijkhoek voldoen aan de behoeften van mensen die op verschillende afstanden kijken, zelfs langere kijkafstand.
De grijsschaal van 16-bit zorgt er ook voor dat de kleur van het beeld levendig en delicaat is.

* 5 Sterke plasticiteit: het kan alles afspelen wat je redelijkerwijs wilt verspreiden, zoals advertenties of belangrijke meldingen via woorden, symbolen en video.
Wat betreft u, u bezit de rechten voor het maken van de inhoud en vorm.
* 6 Gemakkelijker te bedienen: het is beschikbaar voor zowel volledige bediening op afstand als programmering op locatie via telefoon, tablet, laptop en computer.

* 7 Stroomtoevoer: Regelbare controlekamer voor de stroomvoorziening, gemakkelijk en snel, vermindert het stroomverbruik.

* 8 Naast het handige en speciale kenmerk van de led-display van een mobiele truck, wordt het ook een mooie scène in de stad.
Het led-display van een mobiele truck trekt zelf meer aandacht van het publiek om de getoonde advertenties te zien.
Details
Pixel Pitch

8mm

Pixel Density

15625 px/m²

LED Type

SMD3535

LED Configuration

1R1G1B

Module Dimension

256*256mm

Cabinet Dimension

1280*768mm

Cabinet Resolution

160*96px

Cabinet Weight

70kg

Cabinet Material

steel/aluminum

Ingress Protection
(front/rear)

IP65/IP54

Brightness

>6500nits

Viewing Angle(H/V)

140°/140°

Driving Method

1/4 Scan

Power Consumption(avg.)

360w/m²

Power Consumption(max.)

900w/m²

Frame Refresh

≥ 60Hz

Data Refresh Rate

≥ 1500Hz

Gray Scale

16bit

Colours

281 trillion

Contrast Ratio

2000:1

Power Supply

AC 110/220±10%
50~60Hz

Temperature
(operating/storage)

-20~50°C / -40~60°C

Humidity(operating/storage)

10%~90%RH
10%~85%RH

MTBF

≥1000 Hours

Life Span

≥100,000 Hours

Pixel Failure

<0.0003
Shows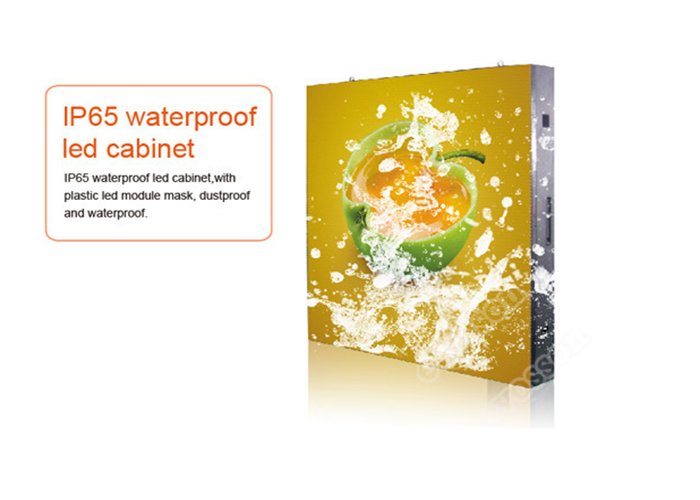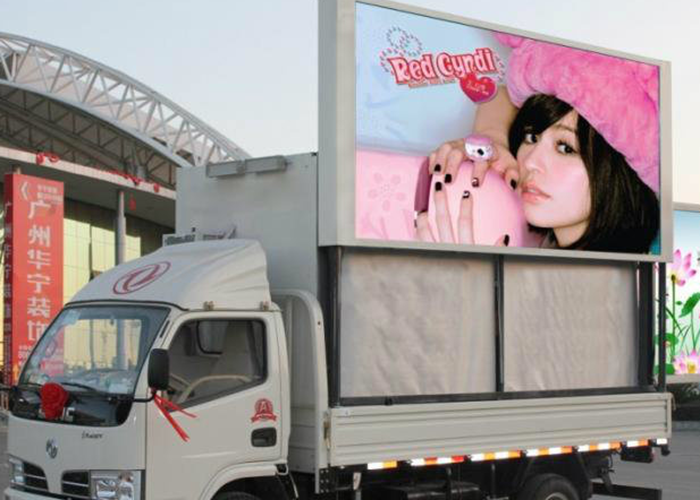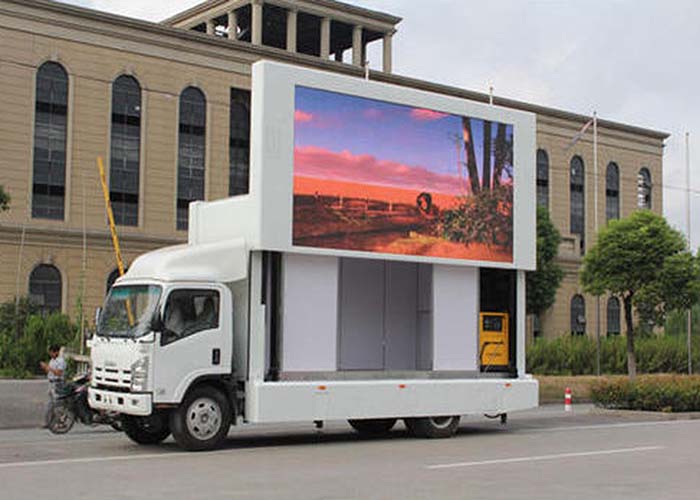 voordelen
* 1 Het product heeft een goede schokbestendigheid vanwege de mobiliteit van de truck. Voor het led-display van de mobiele truck is het belangrijkste kenmerk een anti-shake op hoog niveau, dit is zeer belangrijk voor een beweegbaar ledscherm.
* 2 Anti-UV-modulemasker, anti-oxidatiemodulekader met bescherming tegen vervorming
* 3 Standaard waterdichte kast die IP65- en UV-bestendig is en vrij kan bewegen van de ene site naar de andere, waardoor installatietijd wordt bespaard.
* 4 Hoge helderheid en hoge grijstrap met duidelijk display-effect waarmee u gemakkelijker kunt werken.
* 5 De hoogte van het scherm kan worden aangepast, afhankelijk van uw bedieningshandeling.
* 6 Normaal gesproken kiezen we voor een aluminium kast, dus het zal uw vrachtwagen niet te veel belasten.

Tips
* 1 Betaling: Wij accepteren de L / C, T / T, Western Union.
* 2 Verzending: We verzenden binnen 20-25 werkdagen na het plaatsen van de bestelling, maar de specifieke levertijd wordt beïnvloed door de rederij en verzendgegevens.
* 3 Pakket: we verpakken het product meestal in een houten kist of flightcase.
Product Categorie : Mobiele LED-display > Truck LED-display