Bako Vision BG-serie Transparant LED-display I NV superieur LED-display dat op maat kan worden ontworpen om een unieke cilindervormige scherm te vormen. Het is installaties toe te voegen pit aan uw presentatie als een solo middelpunt of als onderdeel van een groter heldere transparante installation.BG Series is een 65-75% T ransparent LED D isplay dat in een venster kan worden geplaatst zonder in te boeten natuurlijk licht in uw ruimte. Bijkomende voordelen zijn creatieve en artistieke toepassingen, terwijl aan beveiligingscodes en voorschriften wordt voldaan. Het slanke ontwerp en de hoge helderheid kunnen concurreren met direct zonlicht en u de mogelijkheid bieden om uw klanten een dynamische ervaring te bieden voordat ze uw locatie betreden. FLEXClear is perfect voor elke winkel, hotel, winkelcentrum of commerciële toepassing.
beschrijvingen:
Licht heldere transparante LED-cilinderdisplays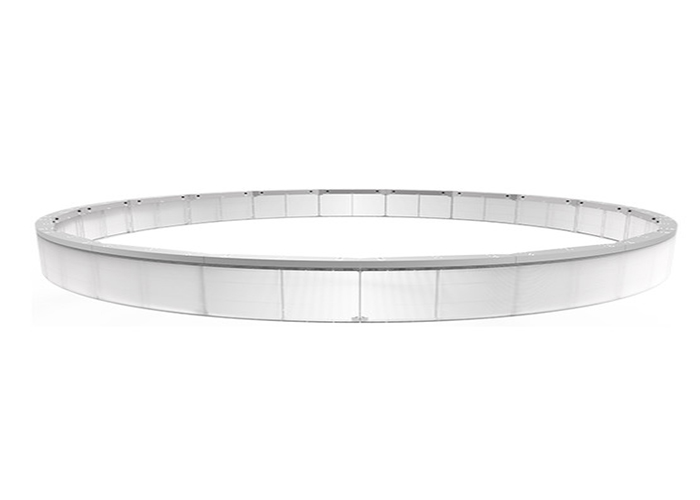 Aangepaste transparante LED-display
De transparante LED-displays van Bako Vision BG Series zijn aangepast aan elke diameter of hoogte. Creëer een prachtig showroom-middenstuk, liftfolie of cilindrische wolkenkrabber om aandacht te genereren met hoge transparantie. Elke cilinder wordt gevormd door vier lichtgewicht kwartrondingen en zorgvuldig ontworpen en gebouwd naar uw specificaties in onze fabriek en verzonden voorgevormd.
Kenmerken:
T RANSPARENT D ESIGN
T RANSPARANTIE
De BG-serie is een transparante 65-75% LED-display die in een venster aan de voorzijde kan worden geplaatst zonder natuurlijk licht in uw ruimte op te offeren.
LICHTGEWICHT ONTWERP
De slanke constructie biedt creatieve en artistieke voordelen in vrijwel elke commerciële toepassing.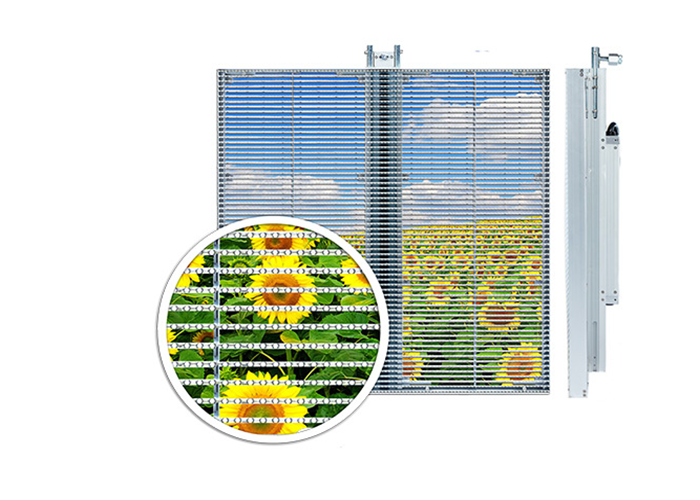 SLIM & LICHTGEWICHT CONSTRUCTIE
QUICK LOCK FUNCTIE
Ons snelvergrendelingssysteem omvat ons voorsluitmechanisme met king-pin en inbussleutel om de paneelverbinding sneller en veiliger te maken. Dit unieke sluitsysteem maakt een snelle en moeiteloze verticale paneelverbinding mogelijk in een eenvoudig 3-stappen proces: uitlijnen, optillen, klikken en vergrendelen.

VOOR EN ACHTER TOEGANKELIJKHEID
De vervanging van een enkele module zorgde voor een gemakkelijke verbetering van het onderhoudsgemak.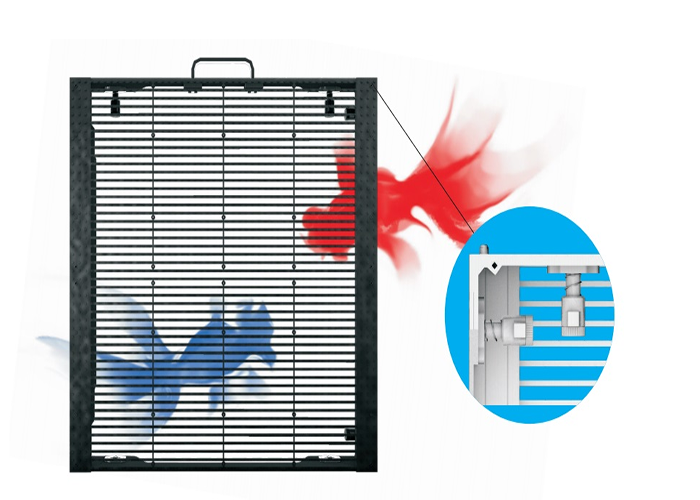 HOOG-HELDERHEID DISPLAY
HOGE HELDERHEID
Met behulp van externe voedingen met een hoge helderheid kan het scherm concurreren met directe blootstelling aan zonlicht op piektijden van de dag.
HELDERHEID AANPASSING
De helderheid van uw beeldschermen kan 's nachts eenvoudig worden aangepast om het bekijken te optimaliseren en ook de levensduur van uw LED te verlengen.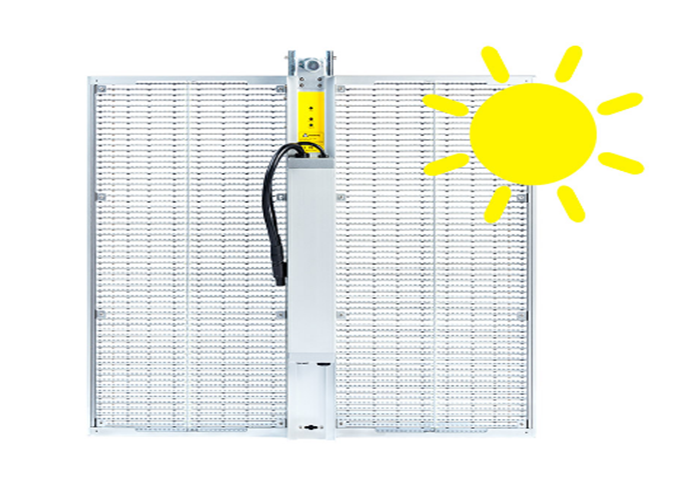 STABIELE, BETROUWBARE VERBINDINGEN
Vastgezette, vergrendelende kabels en connectoren garanderen een veilige en betrouwbare koppeling van vermogen en gegevens tussen FLEXClear-panelen. Signaalindicatoren geven eenvoudig zicht op de paneelstatus.
GEBOUWD VOOR PERMANENTE INSTALLATIE
INSTALLATIE
Ons camlock-systeem zorgt voor eenvoudig ophangen en verbinding tussen panelen.
UITLIJNING
Uitlijnrails en stelschroeven geven extra duurzaamheid aan uw installatie.

EENVOUDIGE SERVICEBAARHEID
Gemakkelijke toegang tot elektronica en pixels vanaf de achterkant van het paneel zorgt voor verbeterd, eenvoudig onderhoud.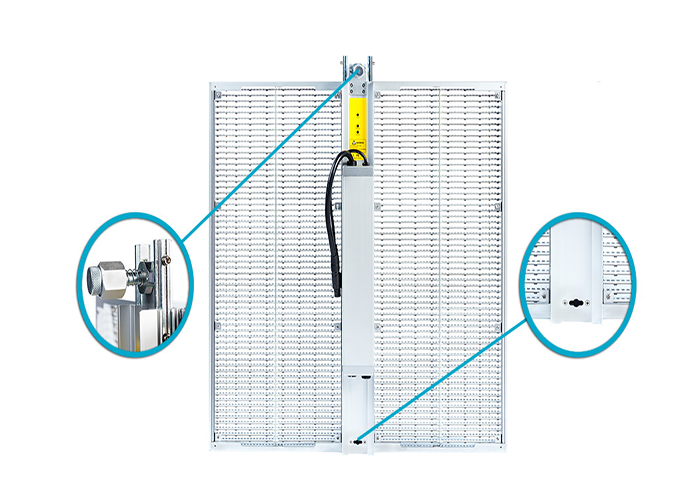 Specificatie :
| | | | | |
| --- | --- | --- | --- | --- |
| | BG-3.75-6.67 | BG-3.75-8 | BG-5-6.67 | BG-5-8 |
| Physical Pitch | 3.75*6.67mm | 3.75*8mm | 5*6.67mm | 5*8mm |
| Pixel Configuration | SMD1921 | SMD1921 | SMD3528 | SMD3528 |
| Pixel Density | 39,900 pixels/m² | 33,250 pixels/m² | 30,000 pixels/m² | 25,000 pixels/m² |
| Module Dimensions(W*H)(mm) | 480*320 | 480*320 | 480*320 | 480*320 |
| Panel Dimensions(mm) | 1920*640 | 1920*640 | 1920*640 | 1920*640 |
| NO. Of Modules Per Panel(W*H) | 4*2 | 4*2 | 4*2 | 4*2 |
| Physical Resolution of Module(W*H) | 128*48 | 128*40 | 96*48 | 96*40 |
| Physical Resolution of Panel(W*H) | 512*96 | 512*80 | 384*96 | 384*80 |
| Panel Material | Aluminium | Aluminium | Aluminium | Aluminium |
| Single Cabinet Weight | 11kg/m² | 10.2kg/m² | 10kg/m² | 9.5kg/m² |
| Processing | 14-16bit | 14-16bit | 14-16bit | 14-16bit |
| Colour Number | 281 trillion | 281 trillion | 281 trillion | 281 trillion |
| Contrast Ratio | 2000:1 | 2000:1 | 2000:1 | 2000:1 |
| Average Power Consumption | 207W/m² | 201W/m² | 209W/m² | 203W/m² |
| Max. Power Consumption | 690W/m² | 670W/m² | 696W/m² | 670W/m² |
| Operating Temp/Humidity | -10℃-60℃/10%-60% | -10℃-60℃/10%-60% | -10℃-60℃/10%-60% | -10℃-60℃/10%-60% |
| Storage Temp/Humidity | -30℃-60℃/10%-60% | -30℃-60℃/10%-60% | -30℃-60℃/10%-60% | -30℃-60℃/10%-60% |
| Refresh Rate | >1920Hz | >1920Hz | >1920Hz | >1920Hz |
| Brightness | >5500 nits | >5500 nits | >5500 nits | >5500 nits |
| Horizontal Viewing Angle | 160° | 160° | 160° | 160° |
| Vertical Viewing Angle | 140° | 140° | 140° | 140° |
| Expected Lifetime | 100,000Hrs | 100,000Hrs | 100,000Hrs | 100,000Hrs |
| IP Rating | IP30 | IP30 | IP30 | IP30 |
| Servicing | Rear | Rear | Rear | Rear |
| Certification | CCC,CE,ETL,FCC | CCC,CE,ETL,FCC | CCC,CE,ETL,FCC | CCC,CE,ETL,FCC |
Onze service:
P opnieuw produceren:
1. Krijg volledige eisen van klanten
2. Om een ​​grondige analyse te doen
3. Bied een meest redelijke en wetenschappelijke oplossing
4. Aangepast ontwerp
In productie:
1. Het maken van voortgangsupdates voor klanten
2. Bijzondere installatie CAD en ontwerpdiagram voor klanten

Na de dienst:
1. 2 jaar gratis onderhoud
2. 7 dagen per week, 24 uur per dag gedurende 5 jaar on-line service voor technische ondersteuning voor klanten
3. Gratis training voor klanten in de fabriek
4. Lokale partnerserviceservice
Product Categorie : Transparante LED-display